07/13/2014
One of the Windows-pre-installed games my grandfather plays is Freecell. He's become quite good, but every once in a while he'll dare me to get him out of a particularly stubborn position. I began thinking of ways to- algorithmically solve a Freecell board and reading what others have done on the matter and wrote a Freecell solving app. Nothing was particularly complicated, but I thought it touched upon a few interesting topics and was worth sharing. In this article I'll discuss some of the techniques used to put this together.
Before boring you with the details, however, here's a link for you to play around with the solver.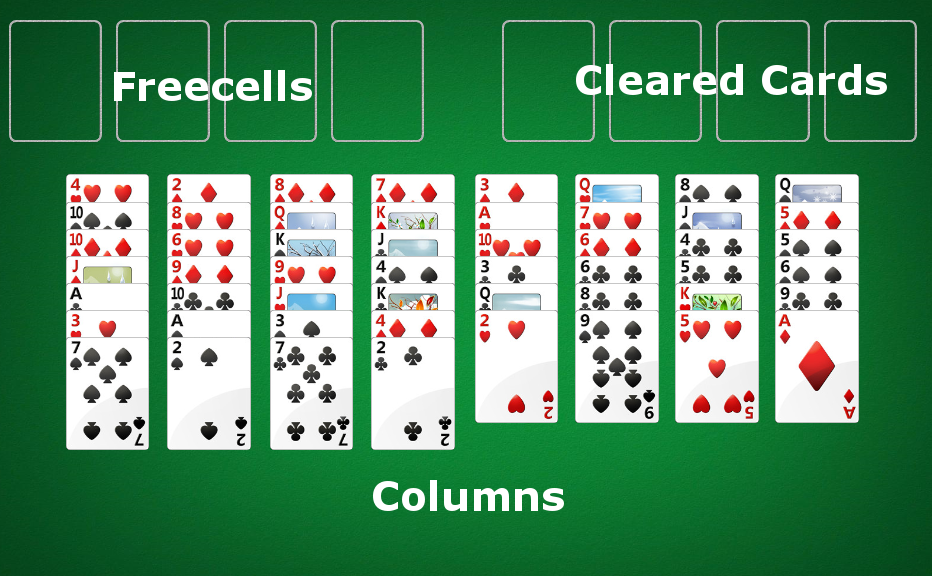 Freecell Solving as Graph Traversal
Where to even begin when trying to code up an algorithm to solve FreeCell? Unlike checkmating an opponent when you have two rooks and king and he only has a king, we can't simply follow a set of rules which will eventually get us to the solution state (whether it be checkmate or moving all of the cards in the foundation cells). Instead, the best I could think of is coming up with a brute-force search of the universe of possible moves.
Imagine we modeled each valid Freecell position as a node, with two nodes being connected if we can move from one to another. This would give us a directed, possibly cyclic, graph. There is only one "completed" node - the one where all of cards have been cleared into the foundation. Representing the problem in this form, we can use any of our favorite graph traversal algorithms to find the solution. Tada!
Pruning and intelligent search
Not so fast - let's do a quick sanity check on the viability of a brute force approach. Let's say there about 8 moves per position (each of the 8 starting columns can move to a Freecell), and say that doing more than 109 operations will take too long. That only gives us log8(109) < 10 moves of depth to search before we run out of operations! If you've ever played Freecell, you'd probably agree that you can't solve many games with 10 moves - for starters there are 52 cards to clear. So it seems though we can't just use a breadth-first-into-oblivion-search or we'd run out of CPU cycles before we found the solution.
Perhaps, however, we could intelligently search only a subset of the graph and still get to the "completed" node. Before we go down that path, it's important to understand that by using heuristics to limit our search space, we are losing our guarantee on finding the shortest solution. Only if our tree was structured better could we find the shortest solution quickly (in polytime) without doing a full BFS-like search. Let's dig into this a bit more. Imagine we're given a constant-time oracle which produces exactly the minimum number of moves to solve the board from any Freecell position - but not the actual solution. Let's call the length of that minimal solution, L. Can you come up with an algorithm to find that minimal solution in polynomial time with respect to L? If you must, the answer is in the footnote.[1]
Unfortunately, I don't know of such a real-life constant time oracle. However, we can use human intuition to build something similar which would give you roughly the number of moves to solve the board from a given position. In fact, the oracle doesn't even need to give you a meaningful number (such as the number of moves required to solve the board) - it can just give you a numeric value monotically increasing (or decreasing) in how good of a position the board is (where a "good" position is one that is close to being solved), and our solver will still find the completed node. This is where we get a chance to put in our "strategies" which will help guide the pruned search to a reasonably short solution.
You can engineer the solver to follow your strategies by having the oracle reward certain pattern and punish others. For instance, we might want the higher ranked cards to be further up in a column, and the 2s, 3s, and 4s to be lower down in a column. We can build the oracle so that it Here are a couple basic strategies that we can hard-code into our solver.
The more the vacant freecells and vacant columns, the better
Lower ranked cards are better in the bottom, higher at the top
The fewer cards remaining in the columns and freecells, the better
Imperfections of a heuristic-based oracle
One problem with an imperfect oracle is that it can lead you uncorrectably astray! Imagine using the algorithm from footnote [1] where at each point you greedily travel to the node with the best oracle score until you've solved the game. With a perfect oracle, the score can never increase from node to another, by construction; there can be no cycles in your solution. At worst, if there is no solution, the score will stay the same and you can therefore detect that there is no solution. However, with an imperfect oracle, the oracle might wrongly suggest you go down one path only to bring you back to where you started - causing an unbreakable cycle. The good news, however, is if you breadth-first-search a few steps in advance and then choose the highest scoring node, as opposed to just choosing the highest scoring immediate neighbor, you can sometimes get over the "humps" caused by a suboptimal oracle. Here is an illustration:

In the diagram above, it should be clear that our heuristic from a node to a "ranking" is a bit flawed - this is what led the greedy algorithm astray. However, real-life Freecell board evaluation algorithms won't be perfect, so tricks like looking ahead a few moves and then choosing the "best" node are helpful. Once you've selected the best leaf node, you only have to remember the path you took to get there. You can forget all the other nodes in the tree and use that memory for further computation.
Move suggestion
Unfortunately even after spending a bit of time on the node evaluation, or "ranking," method my solver would take unusably long to find a solution. I had to come up with another trick. If you're familiar with the rules of Freecell you know that, in the simplest form of the game, you cannot move stacks of cards around between columns. Each turn you can move exactly one card from the columns / freecells to either another column, freecell, or cleared cards. However, some of the Freecell games allow you to move stacks of cards at a time.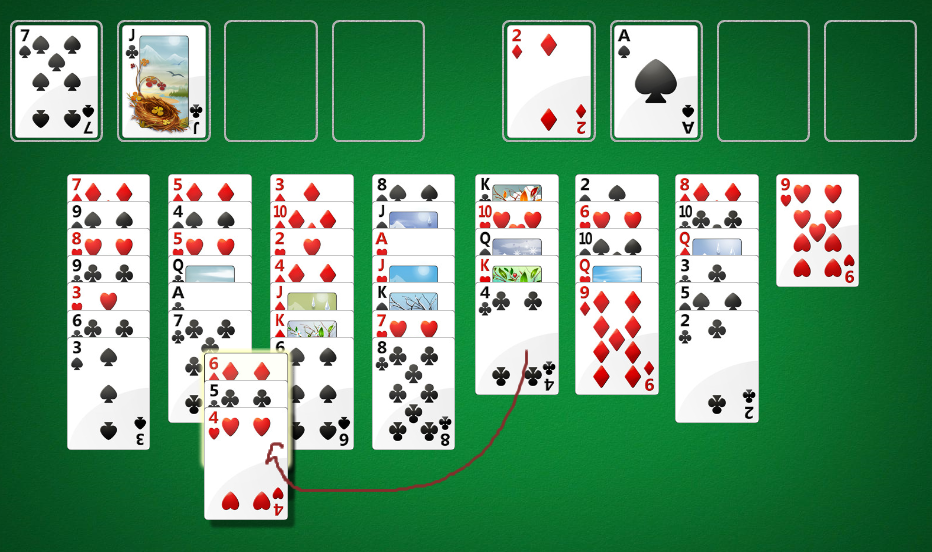 It turns out that you can simulate moving a stack of cards at once by a systematic moving of single cards. For instance, imagine if you had no available free columns, but two available free cells. You can move a stack of up to 3 cards as follows: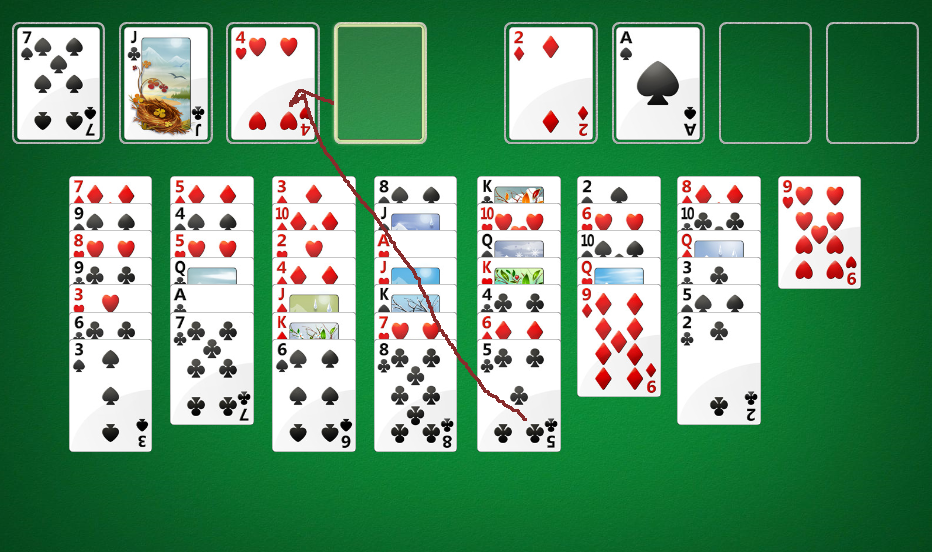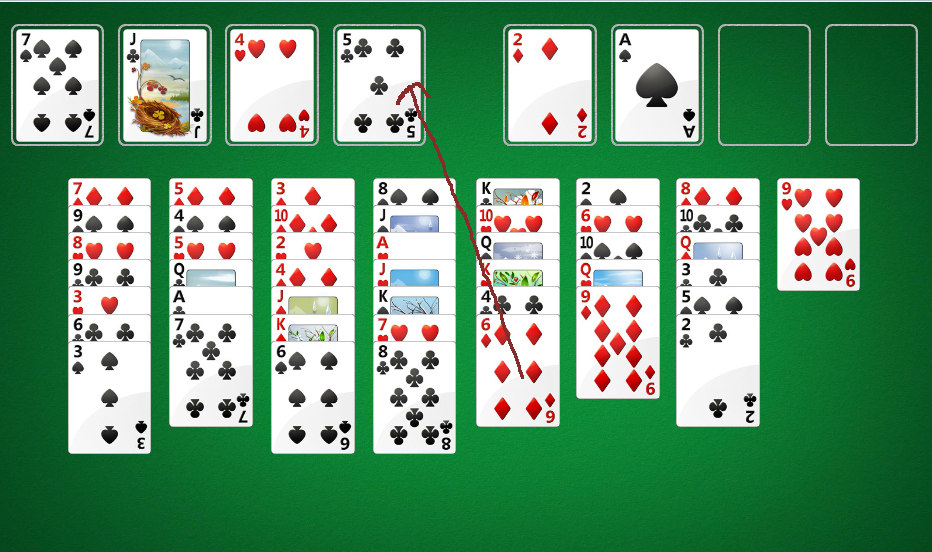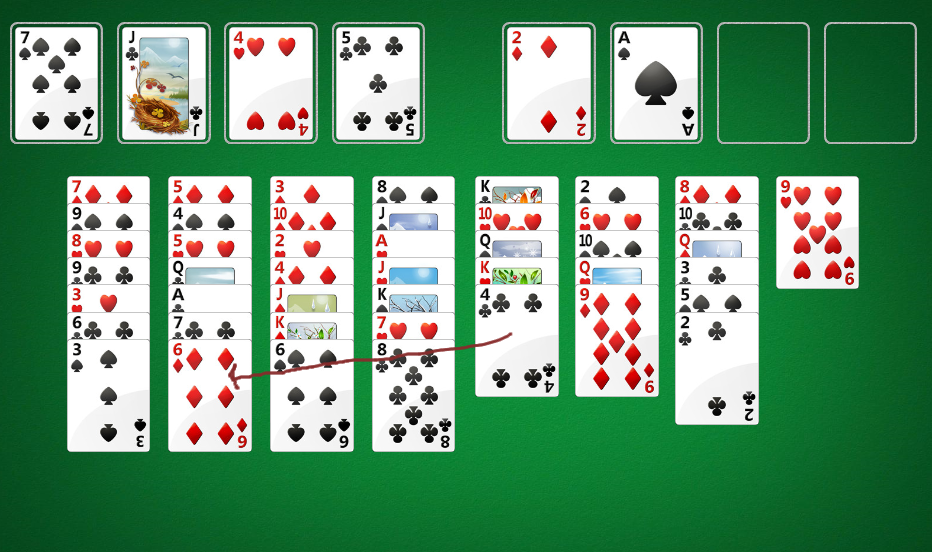 And then moving the cards from the free cells down to the destination column.
So how does this help our solver? It turns out that suggesting "stack moves" as move options (edges in the graph) helps find the solution more quickly because the computer doesn't have to guess all of the single-card moves needed to move a stack, which saves a lot of computation.
As an exercise to the reader, try to prove by induction that you can always move

cards into a non-empty column, if there are N free cells and K free columns.
Conclusion
Although I don't know of any polynomial-time deterministic freecell solving algorithms, you can use heuristics, move suggestion optimizations, and brute-force search to solve most free cell games. Check out FreeSolved for a free online implementation of the strategies I discussed here. Happy solving.
[1] At each step, evaluate all possible "connected nodes," or neighbors. These represent any possible which can you legally travel to. Choose to move to a node where the "evaluation score" of that node is exactly one less than the current evaluation score. By induction, there must exist at least one such node (if there wasn't a node with score N - 1 neighboring me, then how can I have score N?
12/06/2012
There's a rigged coin with 60% chance of showing heads. You can bet, with 1-1 payout, on heads. You have an initial bank-roll of P. On any given "turn" you can only bet up to the amount of money you currently have. How should you bet over T turns?
This article uses this problem to show that maximizing the asymptotic growth rate and maximizing log utility both result in Kelly betting. It's also true, under asymptotic conditions, that Kelly bets maximize the median fortune of the bettor.[1]
Maximizing expected value
The first thought that comes to mind is to maximize EV of my bankroll over the T turns. If T = 1, EV is maximized by betting the whole bankroll (analysis). Because the coin flips are IID, my decision on each coin flip is unaffected by the past; I should bet the entire bankroll every time!
This strategy does maximize expected bankroll, but most people wouldn't "bet the house" every time because, in all likelihood, you'll be broke after some time.
Maximizing expected utility
As some betting theory suggests, we should be maximizing expected utility, not expected value. In 1738 Daniel Bernoulli wrote a paper speculating that the marginal utility of money is inversely proportional to the recipient's net worth[2]. In other words, if a small unit of money brings you the additional happiness of X, then someone who is half as wealthy as you would receive 2X additional happiness from that same sum of money. Mathematically,

Manipulating this slightly, we see that this is equivalent to the common log-utility function[2]:


Let's use this utility function to determine how much should be bet on one turn. Without loss of generality, assume we have one unit of money. We are trying to find the optimal bet 0 < b < 1 on this utility function:


In order to find the b which maximizes E[U], find roots of its first derivative while the second derivative is negative.
Finding a root of the first derivative:







Ensuring that the second derivative is negative there:





Note that
c
is the constant from taking the derivative of
log(1 + b)
, and so
c
is positive. Thus the entire expression is negative, meaning our root at
b = 2p - 1
is a local maximum.
Recall that this calculation only solves the "how much should be bet on one turn?" question. Fortunately, because these gambles are IID, we can apply the same result to all subsequent turns, and conclude that for each turn you should bet a fraction of your wealth equivalent to 2p - 1 at each turn. So, to answer our original question if we have a coin with 60% chance of flipping heads, we should bet 20% of our wealth, on heads, every flip.
Maximizing growth rate
Instead of utility, if we maximize the asymptotic rate of asset growth, we arrive at the same result! Formally, the asymptotic growth rate is defined as


where Pn is the wealth "at time n."[3] In our example, P0 is 1. Now assume that the bettor is betting some fraction b of his wealth every turn. We can exactly calculate Pn as


where the bettor wins W times and loses L times. Note that the order of the wins and losses doesn't matter. Simplifying G, we get


We know that, over time, the bettor will win p amount of the time. Using this, we now must maximize

This is what we want to maximize. But wait a second, this looks an awful lot like the EU of an actor with log utility which we just calculated! In fact, it is! So maximizing the asymptotic growth rate will have the same result as maximizing EU of a single flip with a log utility function. Thus, if we go through the math again, we will once again arrive at the conclusion

To further nail in the point, let's consider a different approach. Rewind back to

This is the exact, non-asymptotic amount (not utility) which the bettor will have at the end of W wins and L losses. Let's maximize this instead using conventional calculus (find root of derivative).






Recall that so far we have not made any asymptotic approximations; the value b described above will always have the highest end balance after W wins and L losses. As a side note, a negative b value would symbolize taking "the other side of the bet" for the amount abs(b). In order to make further progress, let's now assume that our coin has probability p of flipping heads and the number of trials, n tends to infinity. We once again have



Maximizing median value
One strategy, which remains largely undiscussed, is to maximize your median wealth value over an indefinitely large sample size. Although I won't go into the math, it also holds that betting
2p - 1
fraction of your bankroll, at all betting turns, maximized the bettor's median fortune over the long run
[1]
.
Conclusion
In our simple coin flipping game, both maximizing log utility and asymptotic growth rate yield a betting strategy of betting a fraction of your wealth equal to
2p - 1
on each turn. This result is also achieved by using the
Kelly Criterion
coined by Kelly in the mid 20th century. The criterion can be expanded and re-calculated whenever the game has payouts other than 1:1, but the essense of the results can be explained in as simple a game as the coin flipping used here. If you're interested in the topic, a few good reads can be found in the footnotes, and in a description of
Proebsting's paradox
, which surfaces weaknesses of this betting style.
[1] This article is meant to be a tip of the iceburg introduction into Kelly betting, but a proof of the median claim can be found here. (S.N. Ethier. 2004).
[2,3] Page two of this paper (MacLean, Thorp, Zhao, Ziemba. 2011).
One last source used was this paper (Stutzer. 2010).
10/29/2012
Some employers pay employees equity [1] in the company as part of their compensation. And just like how you don't get your entire annual salary in the first pay check, you don't receive all of your equity on the first day. This article does some analysis on the equity vesting process.
Employees
We'll simplify our analysis and assume that employees are rational actors with common utility curves that get value only out of money. In short, this means that employees always prefer more money to less money, and receive strictly decreasing marginal happiness on each additional dollar as they get richer.
We'll also assume that our employee is looking to maximize utility for some arbitrary time, pick two years from now[2]. In the meanwhile employees are free to move around companies at their will.
Companies
Assume companies pay employees in salary and equity. The value of paid salary in two years has low variance, but the value of equity two years from now is less predictable especially for unestablished companies.
Companies give employees equity in the company according to a vesting schedule. A simple linear equity vest gives the employee equity linearly proportional to the amount of time they've worked at the company until they've vested all of their equity. For example if an employee is granted 20 equity units over 4 years with a linear vest, he gets 5 units after the first year, 10 after the second, etc. until the end of the fourth year at which point he recieves no more equity.
Startup Example
Let's consider our employee Bob who wants to work at a startup company. He has a common utility curve, such as

Bob has two years to maximize his expected utility. Let's simplify the world and assume the only options Bob has during this time are to work at either Startup A or Startup B.
Both startups give equity that vests linearly over 2 years and have an independent 5% chance of "making it,"[3] and a majority chance of sizzling out with worthless equity. The equity values in the table below, in the same units as salary, are assuming the company "makes it."
| | Equity earned after t years | Salary earned after t years |
| --- | --- | --- |
| Startup A | 1000t units | 5t units |
| Startup B | 900t units | 4t units |
Let t be the time, in years, Bob spends working for Startup A; (2-t) is the time he works for Startup B. From the looks of it, Bob should work for Startup A for all two years. The only two options are A and B, and he should never be working for the latter because A seems more lucrative. Right? Let's see.
| Who makes it? | Chance | Monetary value | Simplified payout |
| --- | --- | --- | --- |
| A, B | 0.25% | t(1000+5)+(2-t)(900+4) | 101t+1808 |
| A | 4.75% | t(1000+5)+(2-t)(0+4) | 1001t+8 |
| B | 4.75% | t(0+5)+(2-t)(900+4) | -899t+1808 |
| Neither | 90.25% | t(0+5)+(2-t)(0+4) | t+8 |
Let's do some expected utility math. Recall that t is the time Bob works for Startup A. Bob expects his utility to be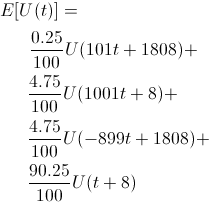 This turns into a simple optimization problem, trying to maximize the above expected utility where

After doing some math (finding roots of derivative of expected utility), we see that expected utility is highest where

In English, this means that Bob should leave the more seemingly lucrative Startup A for a worse opportunity around 15 months into the job.
What may be even more surprising is the following Wolfram Alpha chart with expected utility on the Y Axis and time spent working for Startup A, in years, on the X Axis: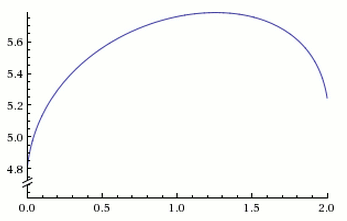 Above we can see that leaving the "better job" after 6, 12, or 18 months are all better options than staying for two years!
The problem with linear vesting
Woah! The payout schedules (under all of these assumptions) actually encourage a rational actor with a common utility curve to leave for a "worse" startup!
This dilemma is the reason why, more simply put, most people prefer a 2% chance shot at $1 million rather than a 1% shot at $2 million. This encourages jumping ships.
The odd thing here is that startup companies often choose a vesting schedule (such as a linear) that causes this dilemma, when they really want the employee to stay for longer!
Mitigating this effect
First off, because of all the assumptions made, our analysis isn't a great correlation to the real world. Nonetheless, the fundamental idea that common utility curves imply risk-averse "hedging" behaviour is something that we have to learn to deal with in compensation packages.
Cliffs
A popular way to mitigate this effect is to impose a cliff on the equity vesting. A linear vest of w equity units over period T with no cliff (of an employee that's worked for t time) has

In English, this means that your ownership of the company increases linearly with time until you you've worked for T time at which point you've received all of your equity. A cliff up until time c means that should you work for less than c time units, you receive no equity. So,

Cliffs discourage employees from leaving before the cliff period, but don't solve the underlying asymmetry between payout and utility. If both Startup A and B had imposed a 1 year cliff, Bob would've still worked for Startup A for about 15 months and left to work for Startup B!
Non-linear vesting
Let t be the time the employee has worked for a company. Our linear vesting schedules can be expressed as


Instead consider the following vesting schedules, which promise the exact same amount of equity after 2 years:


Instead if we re-calculate Bob's optimal moves, we'll see that he should (this time around), work for Startup A for the entire two years. This is because the payout schedule is slower than his utility curve is conservative; Bob doesn't start earning any real equity unless he hangs around which more than accounts for his desire to hedge his bets by jumping ships.
In real life, higher order polynomial equity vesting schedules may be too "complicated", so a more practical solution is delayed additional grants. Assume that startups A and B instead offered Bob one third as much equity in his initial grant, but then gave him two additional equity grants one year apart after he joined. All equity grants vest over two years, with the first one cliffed. His payout would like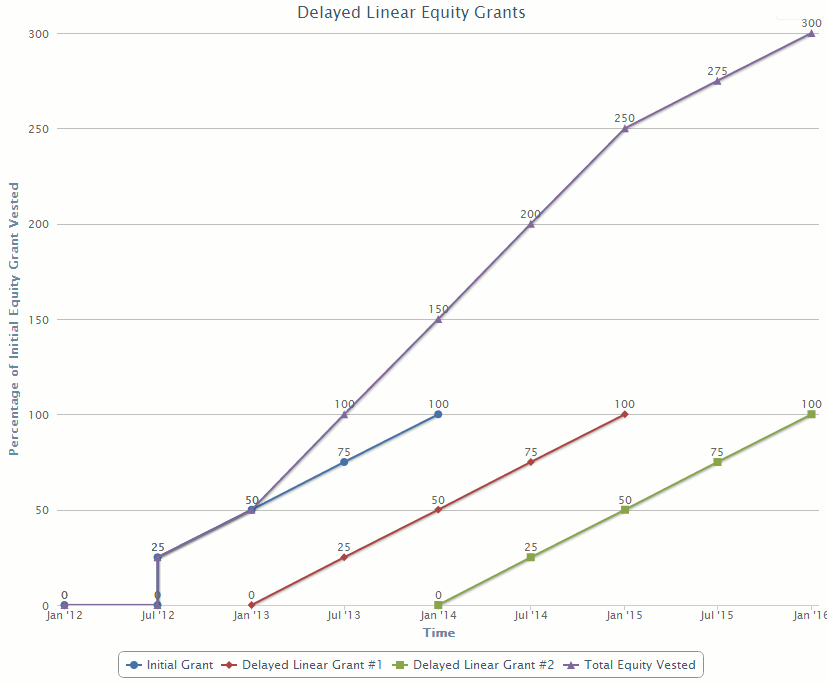 This payout, just like higher order polynomial schedules, maintains the desirable positive second derivative in the beginning which helps mitigate risk aversion.
Conclusion
Unestablished companies generally are subject to having a high variance on equity worth. The linear equity vesting schedule, even with a cliff, may not be the best from a rational perspective.
[1] For the purposes of this article, equity can be anything which rises in monetary value as the company does, like shares (linear value correlation) or options.
[2] This isn't a great approximation but will suffice for the analysis. It might make more sense to assume employees are maximizing the overall utility over time with various weights given to different times. Specifically, employees are looking to optimize:

where U(w) is the utility for a given wealth, W(t) is the wealth at time t, and H(t) is how much the actor weights happiness at that point in time. For an actor who is optimizing to have a great time in his 30s, H(t) may look like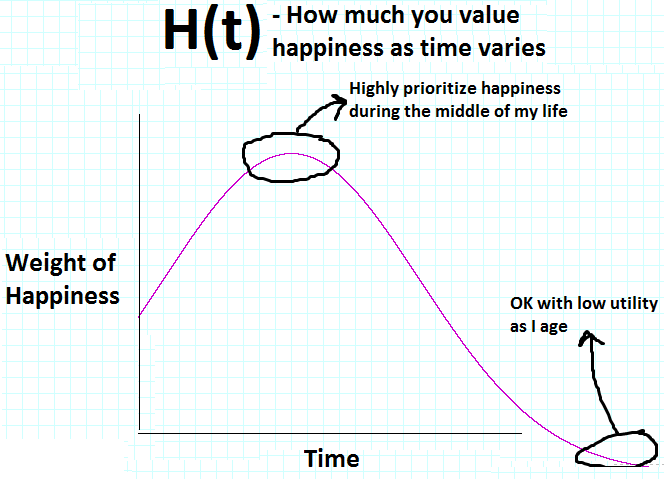 Pardon my artwork.

[3] I actually believe the entire world is predictable, but since I can't even tell you what I'm going to have for lunch tomorrow, let alone what companies are going to be worth, I'll fall back on random modeling.
10/01/2012
With indexed, searchable, up-to-date, dynamic resources at our disposal I find books becoming less and less useful. Good books, however, are able to present a lot of relevant information with little noise and a coherent structure; this can be tough to find online without a lot of searching. I found these ones totally worth it:
Thanks for reading!
Hopefully some of these come in handy to you. If you know of any good reads in other subjects (AI/ML, Stats, Networks, etc.) let me know!
07/05/2012
This post is about thoughts I had on randomness and indeterminism. Inspired by "God doesn't play dice" - Einstein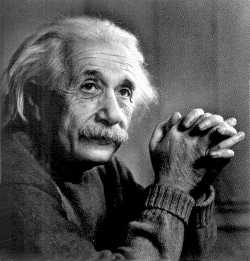 School
In school, I often solved problems assuming that certain events was intrinsically indeterminable. In signal processing you may assume there is some unknown noise, in economics you plan for uncertainty of markets, and in stats classes you begin with the assumption random variables exist and take on different values with various likelihoods. We're then taught to manipulate these objects, defining and deriving different properties of random variables. Finally, we use this knowledge in "practical" applications like finance or engineering.
All this time I never questioned the existence of incalculable events. After all, consider a dice roll or a coin flip. In class these were quintessential examples of real world randomness.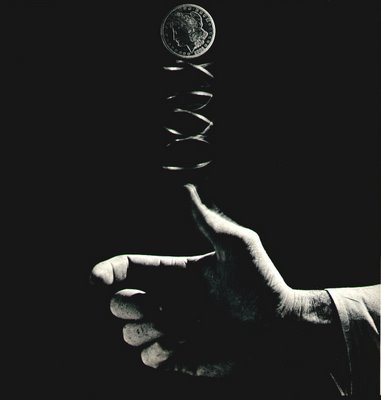 "Randomness" because of Information Incompleteness
If we look more closely at our coin, I argue that we only model a coin flip as random because we can't calculate it exactly. Similarly, we only model a dice roll as random because we can't calculate all the rotations and collisions associate with a dice roll. There is in fact nothing random at all about either a dice roll or a coin flip. If your statistics exam gave you more details on exactly how the coin was tossed or dice was rolled, you could solve the problem without any randomness. But then it would probably be a physics exam.
In less words, we fall back on modeling outcomes as random whenever we have incomplete information.
Living by the beach
To drive home the point, imagine if we didn't understand the concept of buoyancy. We live by the ocean, and some objects we throw in sink and some float. We can't actually figure out why, so we run 1000 experiments. In each experiment we throw in some object into the water and note down whether it floats or sinks. At the end of the this very complicated experiment, we come to the conclusion that floating is a Bernoulli random variable with 74.3% of objects sinking and 25.7% floating. Wow! Sounds right to me! In actuality, if we just had a better understanding of the world, we would be able to exactly calculate whether an object will sink or float and remove randomness entirely. Same goes for coin tosses, dice rolls, the weather tomorrow, and ... humans.
Indeterminism and lack of free will
Here's where it starts getting controversial. Most people would agree that[1], if you had a computer and physics genius, you could exactly calculate how everything will unfold in a Rube Goldberg machine.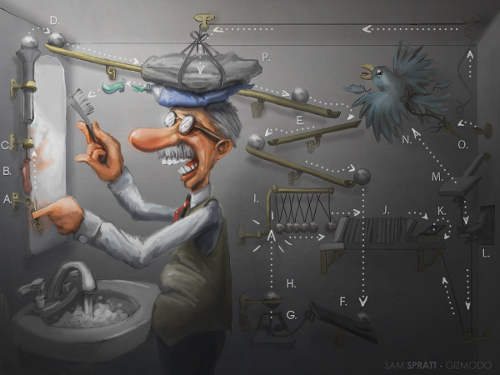 Cartoon of a complicated Goldberg machine
Now, if we had a electro-chemistry/biology/neuroscience genius and a computer, can we calculate exactly how a living cell will behave? Or how about a human? The same type of particles which make up a mechanical Rube Goldberg make up biological humans. If the behavior of the particles of the former can be predicted, why can't humans? Is consciousness and thinking anything more than the effects of neurons firing? A rolling ball which triggers a gear turning is analogous to a neuron firing triggering a muscle flex. Remember that we're not actually concerned about actually predicting human behavior, but rather about knowing whether or not it is predictable at all.
From this, we can look at life as a whole as a big Rube Goldberg which is just unfolding itself; everything is pre-determined and just waiting to happen. Furthermore, if our model of physics (how the world works) was perfect, it would even be calculable!
Take away
Outcomes are often modeled as random because of incomplete information, not because of genuine randomness. It is within the realm of possibility that all outcomes are calculable with an accurate enough model of the world, eliminating the need for random modeling.
Does this mean we should stop teaching how to find the standard deviation of a random variable? Probably not. Random models are a great practical backup plan that have provided tremendous value. So kids, until you come up with an exact deterministic calculus for all outcomes, you can't use this as an excuse for unfinished stat homework.
[1] From my embarrassingly little knowledge of Quantum Mechanics, the latest theories say that there is in fact genuine randomness and incalculability in how matter behaves at this level. If this is true, then randomness has been introduced into the world and so the whole determinism argument falls apart. However, if the current theory simply introduces randomness to satisfy discrepancies between the theory and observed experiments and there exists an accurate deterministic theory, then determinism still holds.